Balloon washing equipment for 19-liter (5 gallon) balloons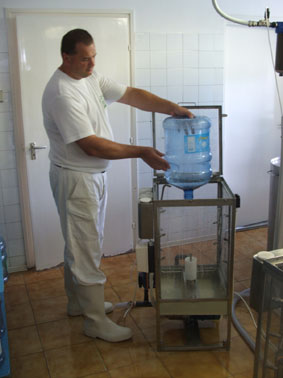 The equipment is suitable for washing the inside and outside of 19-liter (5 galloon) balloons.
Useage of the equipment: the operating person places the balloon for washing into the equipment. The washing process starts inductively by closing the lid of the equipment, the period can be controlled by setting a time controller.
The equipment cleans the ballon on both the inside and outside with high-pressure water beam while rotating the balloon. The equipment supplies a disinfectant with a separate dosing pump, which also can be controlled by setting a time controller.
At the end of the washing process, the operating person takes the clean balloon out after opening up the lid.
Performance of the equipment: 200 balloons/hour.
Are you interested?
For more information and bids, contact us on +3663/363-868 phone number or write us an e-mail to the comix.iroda@gmail.com. Our Customer Service is awaiting your inquiry!
Check out our other  bottling technology machines under the 'equipment' menu or visit our YouTube channel for our little films!