FM type rotating tray, wrapping washer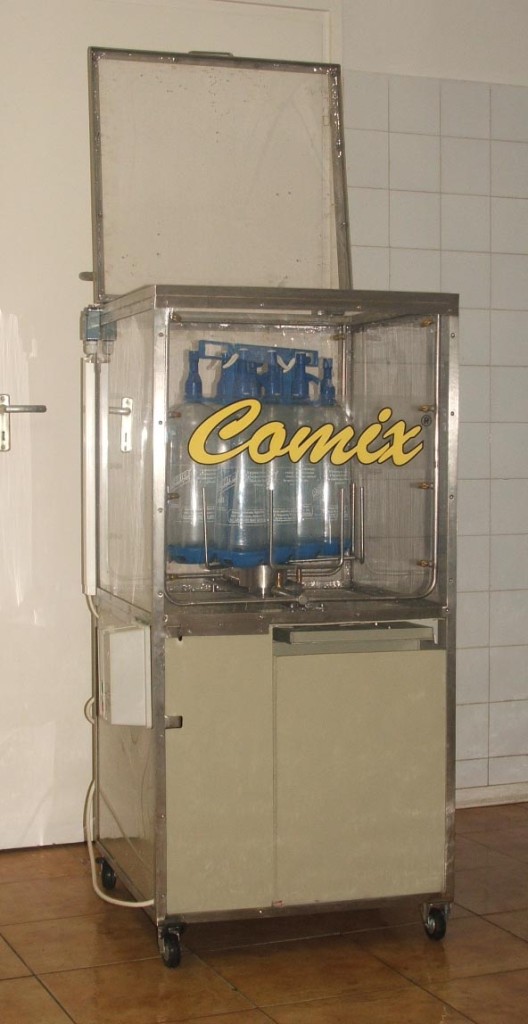 Rotary trays are primarily recommended for smaller plants due to their lower performance. You can clean up 60 compartments per hour.
Washing takes place in two phases: the first phase is a soaked detergent wash followed by rinsing.
One of the great advantages of the wiping was that the same operator could carry out washing and filling. While the operator is charging, the machine will wash. Launch / stop washing can be done by closing / unlocking the lid. Washing is not limited by control, so it can become more effective.
The detergent is water and energy-saving. A 1500W water heater is installed in the washer, so a thermostat can be used to control the temperature of the washing water.
Washing is carried out through 20 nozzles. The wrapping in the laundry is rotated by a directed jet of water. The nozzles are spaced in the wash area so that all surfaces of the compartment and bottles are thoroughly washed away with lukewarm detergent water to make washing even more effective.
With small space-saving tiny wheels, you can move it at any time.
Due to the design of the washer – rotating tray – it is also suitable for washing several kinds of compartments.
Technical datas
| | |
| --- | --- |
| Main dimensions of the unit: | Comix® FM |
| Maximum length | 500mm |
| Maximum width | 500mm |
| Maximum height | 1270mm |
| Performance of the unit | 60 compartments per hour |
| Mass of the unit | 65 kg |
| Connectors: | |
| fluid Connections | G 1/2 "hose |
| Electricity demand | 230V, 50Hz, 2kW |
| Touch Protection Rating | IP65 |
| Material of the equipment | 1.4301 DIN (KO33 MSZ), Makrolon, PVC, PP |
Are you interested?
For more information and bids, contact us on +3663/363-868 phone number or write us an e-mail to the comix.iroda@gmail.com. Our Customer Service is awaiting your inquiry!
Check out our other  bottling technology machines under the 'equipment' menu or visit our YouTube channel for our little films!